Personal property appraisers differ from real property appraisers. Personal property appraisers assign value to anything that can be picked up and moved. They do not appraise land or buildings. In other words, personalty is different from realty.
Why Use a Personal Property Appraiser?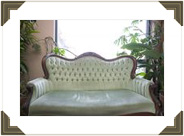 Whenever there is a question about the value of your personal property, there is also a risk involved. It may be the risk of selling too low, or of paying too much; the risk of being under or over insured; the risk of not getting your fair share in a division of property; or the risk of incurring tax penalties or being audited when claiming a deduction for a charitable contribution or when calculating estate taxes.
A professional appraiser helps you manage these and other such risks by providing a written opinion of value upon which you can base your financial decisions. Rather than being just an "educated guess," the professional appraiser's value conclusions are based on prescribed methods or evaluation, research, and report writing.
Bankers, financiers, investors, insurers, adjusters, estate managers, trustees, executors, attorneys, judges, and federal and state tax agencies are ALL dependent upon the knowledge and expertise of the personal property appraiser, and so should you be. Too often and usually too late, people find out that the appraisals they have are inaccurate or misleading, resulting not only in greater risk to themselves, but also in a waste of consumer dollars.
Make Sure Your Appraiser is Fully Qualified?
It is important to ask an appraiser what type of formal appraisal education training he or she has received. Obtaining a copy of the appraiser's professional profile or resume can help you evaluate the appraiser's credentials. The burden is on the consumer to evaluate an appraiser's qualifications.
The Specialists of the South, Inc. has two certified appraisers in appreciable residential contents with the International Society of Appraisers. Our personal property appraiser's specialties include appraisals of antique furniture, collectables, fine art, machinery and equipment.
A personal property appraiser should be able to present a well-thought-out typewritten report presenting the values for the requested function. A good appraisal report should include the following aspects:
Cover Document

Complete and Accurate Description of the Property

Limitations and Qualifying Conditions

Statement of the Appraiser's Financial Interest or Disinterest

Appraiser's Qualifications

Date of Inspection

Effective Date of Value
Only Hire a Certified Professional
DO NOT hire an appraiser who charges a percentage of the appraised value, or charges a "contingency" fee. These practices are clearly conflicts of interests and may result in biased values. The IRS will not accept an appraisal done with such fee arrangements.
There is no state or federal regulation for personal property appraisers. Therefore, it is important to select an appraiser that has membership in a major appraisal society. This assures you that a code of ethics and standards is being followed.
The appraisers at the Specialists of the South, Inc. write reports to the current International Society of Appraisers Appraisal Report Writing Standards and the Appraisal Foundation's Uniform Standards of Professional Appraisal Practice (USPAP). These are important standards that are recognized in the appraisal industry and by third party users of appraisals. Insurance agents and court systems will look for appraisers that write to USPAP standards.
The Skill, the Style, the Specialists.
Some information courtesy of the International Society of Appraiser's brochure, "Be Certain of Its Value," a consumer's guide to hiring a competent personal property appraiser.