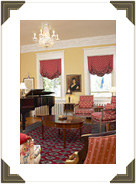 The interior decorators at the Specialists of the South, Inc. have years of on-the-job training to meet your interior decorating needs. Our staff works as a team so our craftsmen are in constant communication with our interior decorators to arrive at the best possible solutions for your job.
To assist our Interior decorating team, the Specialists of the South have put together an impressive array of fabric selections and trims. We stay in tune with the latest fashions from our many vendors.
It All Starts With Our Personnel
Jeannette Dittman is our principal decorator. She has developed her interior decorating skills through a 15-year interest in making homes beautiful and inviting. She has the rare quality of being able to engineer the whole job to perfect completion. This talent gives her the ability to know what will work in planning the scope of your job. Not only does she understand how your job will look on paper, but she can see how to achieve the total desired look. Multi-talented, she has the rare ability to visualize a job and to see the complexities of all aspects in the development of her residential and commercial work. Jeannette is especially fond of working with window treatments.
Another of our decorators, Logan Adams, has taught a Basic Interior Decorating course at Gulf Coast Community College (GCCC) both on the main campus and at the Gulf-Franklin campus through their Education Encore program and has written a course on Understanding Upholstery and Drapery Treatments. She has also taught a course on Antique and Collectibles at GCCC and knows how to work antique-period fabrics in with your antiques.
Our affiliated interior designer, Molly Jackson Riley, is a 1989 graduate of Florida State University in Interior Design. She is state certified and a member of the American Society of Interior Designers. She is well versed in both residential and commercial design.
Our team is ready to help you with your projects, both large and small.
The Skill, the Style, the Specialists.