The Specialists of the South, Inc. is a designated Restoration Center for Northwest Florida. We specialize in refurbishing your household furnishings, but we have particular skill in handling antiques. We also sell upholstery fabrics and leather and have a knowledgeable staff to recommend the appropriate cover for any style antique. Our skilled staff craftsman is capable of upholstering your piece from the bare frame up.
The Specialists of the South are able to stabilize your chairs. We can repair or replace broken spindles and missing applied decoration on your furniture. We can rebuild missing parts or pieces on your furniture as we oversee your project to completion. We work on old lamps and lighting fixtures. Having been in business for over 30 years, we have accumulated a large inventory of old and odd parts and hardware, and we may have just the perfect thing to restore your treasured heirloom. If we do not have the right thing on hand for your project, we can often secure that discontinued or hard-to-find part for you.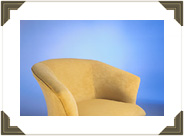 The Specialists of the South are capable of working on your furniture, whatever the medium. Wood, metal, wicker, and rattan generally present no problem to our skilled staff. We are able to replace hand or machine cane seats, rework your broken wicker, replace rush seats, and recommend the best solutions for your individual project.
Our Expertise and Skill is Unmatched
Specialists of the South provides furniture restoration services in the following areas:
Our repair staff knows how to think "outside the box" to help our customers achieve the desired results. Feel free to view our furniture restoration qualifications page for additional information on how we may help you with your furniture retoration needs. If you have any questions, please visit our furniture restoration FAQs section.
The Skill, The Style, The Specialists.