The Specialists of the South, Inc. has been performing insurance and moving damage claim estimates and repairs for over 30 years. We have worked for all of the large insurance companies and major national movers. The fact that we have repeat business from these sources shows that our clients are satified with their results. We do these same types of jobs for our individual clients too.
Our Process
In making estimates, our trained staff starts by coming out to the location and makes a detailed report that is submitted to our client. When the Specialists of the South do work for an individual, we will provide the client with the documentation that they will need to submit with their claim forms.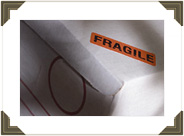 As the Specialists of the South are able to repair all types of furniture and handle the repair of most other claims on antiques and other damaged items, we are able to stand behind our estimates. You will feel at ease by knowing that the job will be done by a reputable firm that works hard to satisfy its customers.
Repairs can often be completed on-site. The Specialists of the South can handle the following repairs for you and more:
Scratches, dents, and gouges

Stripping and refinishing furniture

Re-glueing and repairing broken wood

Replacing leather tops

Replacing mirrors and glass

Replacing broken marble

Reparing damaged picture frames

Repair and replacing cane, wicker, and rush
The Specialists of the South has a full time repair staff and a full time upholsterer on staff to handle your claims. Seemingly impossible repairs are done here everyday.
We are problem solvers at the Specialists of the South. We understand the frustration that often accompanies damages whether from a move or another source. We are only a call away. Contact us today and let us know how we can help.

We provide services that you can depend on, and we make customer convenient appointments. We are fully insured.
The Skill, the Style, the Specialists.