Specialists of the South is not just a name. In fact, our staff members are specialists in their fields. Our interior designers are happy to consult with you when deciding how best to approach your chosen decorating project. A meeting can be arranged at either our 2,500 square foot showroom, in your home, or at a job site. After determining the scope of your assignment, our decorator will develop a plan of action with you. This may involve the selection of fabrics and the scheduling of your job in our on-site workroom. Our large showroom houses many samples of fabrics, but don't be overwhelmed. Our decorators will help you sort through our great selection to find fabrics that will work for your project. Whatever the extent of your decorating scheme, be assured that you will be able to have just as much input into the project as you desire. At the Specialists of the South, we listen to our customers. Our role as a designer is to guide you through making your decorating decisions.
Call Us Today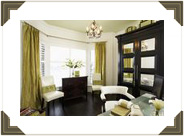 Our decorating team is ready to assist you, whatever the size of your project. Although Specialists of the South offers a great selection of elements for your design, should you need assistance in making purchases outside of our selection, interior decorators are available on a fee basis.
ASID-Certified Interior Design
If your project requires the services of a licensed American Society of Interior Designers (ASID) designer, one is available through the Specialists of the South. Our designer is able to help with your floor plan questions and can assist you in making all of your new home construction choices in a minimum of time.
The Skill, the Style, the Specialists.