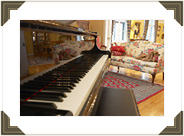 The Specialists of the South, Inc. can handle a sale for you whether it is needed because you have to settle an estate, because you wish to downsize, or because it is necessary to liquidate your business.
We are sensitive to your wishes and your schedule as we prepare for and conduct these estate sales. We have the experience to market your merchandise in the best manner possible. We also inventory your merchandise to whatever level that you require. Our permanent staff is fully trained to care for your personal property as we transact the sale and to care for your real property as we go through the sale process. The security of your items is very important to us.
I contacted Specialists of the South in February 2006 regarding auctioning the personal property, including furniture, of my mother's estate.
Specialists of the South responded the same day with an inspection of the house contents. Within a week, Specialists responded with an agreement to handle the auction, and a choice of dates for the auction.
Terms and estimated expenses were thoroughly explained to us prior to signing the agreement. They did an outstanding job of auctioning the contents, and emptying the house, enabling us to list the real property for sale.
Specialists of the South handled everything in a very professional manner, and we highly recommend them.
They truly do an outstanding job.
~ Cortez Patrick

Our Experience Helps Make Your Sale Go Smoothly
The Specialists of the South has learned through years of service in this area exactly how to accomplish a successful sale. Our clients are able to walk away from their sites knowing that they will receive an empty location at the close of the sale.
We handle all the details of your sale for you, including the advertising for the sale. We also retain a large database of interested buyers for those who have an interest in particular items. If you need your items transported to a sale, we will be happy to assist in providing the transportation.
In the unlikely event that items remain after the sale, the Specialists of the South arranges for the donation of the remaining items and presents you with a slip from the receiving agency that details the contribution.
Whatever your reason to sell, you will have the benefit of two certified appraisers with the International Society of Appraisers working to help you secure the best possible price in the best market for your property.
Give Us a Call Today
We would be happy to sit down with you and provide additional detail to you on our estate sale program. We have developed a sales plan that should leave you worry free about your estate sale. Contact us today for additional information.
The Skill, the Style, the Specialists.